Three Cheese Veggie Lasagna
Healthy meals can provide your body with energy to function. Lasagna with healthy vegetables can be easy on the bladder and may satisfy your hunger.
Lasagna is a food that Americans have adopted from Italy as a family favorite. This three cheese veggie lasagna uses a rich white sauce to add a creamy taste with added calcium. The healthy vegetables are mixed within. This hearty meal is easy on the bladder and may satisfy your hunger, which may also help maintain a healthy weight.
Three Cheese Veggie Lasagna
This comforting, nourishing soup recipe, courtesy of Chef Mary Nolan, has a mix of protein, vegetables and love. It can be made in advance and stored in the fridge to enjoy for up to 5 days later.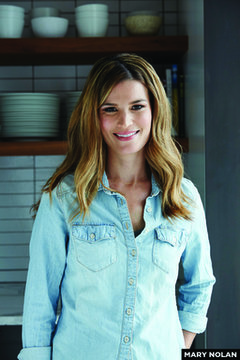 Chef Mary Nolan is a recipe developer, cooking instructor, host and enthusiastic eater. She is currently the Executive Chef at Bon Appétit magazine.
"You eat with all of your senses. Recipes curated by color will look beautiful and help you enrich your meals."
Total: 1 h | Prep: 15 m | Serves: 8
447 calories, 9.5 g fat, 38 mg cholesterol, 150 mg sodium, 70.3 mg carbohydrates, 4.2 g fiber, 19.6 g protein, 352 mg calcium
INGREDIENTS
2 teaspoons olive oil
1 onion, diced
1 yellow squash, cubed
3 cloves garlic, crushed
5 ounce bag of kale-broccoli slaw (or shredded kale)
1 15-ounce container fat free ricotta cheese
½ cup low fat shredded Swiss cheese
3 tablespoons parmesan cheese
3 cups fat free milk
3 tablespoons all-purpose flour
1 package no-boil lasagna; divided into thirds
Ground green or black pepper to taste as garnish
PREPARATION
Preheat the oven to 375 degrees.
Spray 9x13-inch baking dish with nonstick spray (olive oil spray is great).
Heat oil in large non-stick skillet over medium-high heat. Add onion and squash; cook, stirring occasionally, until lightly browned, about 8 minutes. Stir in kale and garlic; cook, stirring constantly, until wilted, about 3 minutes. Remove from heat; let cool 5 minutes. Stir in ricotta, Swiss & parmesan cheeses until well mixed. Set aside.
To make sauce, whisk together milk and flour in medium saucepan until smooth. Cook over medium heat whisking constantly, until sauce comes to a boil and thickens, about 8 minutes.
Layer ingredients into baking dish: ½-cup sauce in bottom of dish, top with 1/3 of noodles (3-4 noodles), overlapping slightly and then top with ½ of veggie mixture over noodles. Repeat. The top layer will include last 1/ 3 of noodles and the remaining sauce.
Cover lasagna loosely with foil. Bake 45 minutes. Remove foil, bake until hot and bubbly, about 10 minutes. Let stand 10 minutes before serving.
Serve & Enjoy!!
Eating healthy may play a role in cancer prevention. Many cancers are linked to excess weight. Healthy eating also helps people during cancer treatment and recovery. Chemotherapy, surgery, radiation therapy and other cancer treatments can take a toll on the body. They may affect taste, smell, appetite and the ability to absorb nutrients from food.
If you or someone you love is dealing with cancer, talk with your doctor or care team about what is best to eat and drink during cancer treatments. They may refer you to a dietitian who can help you with your diet during and after treatments.
Here are some living healthy basics you can apply:
Stay Hydrated
Your body needs a certain amount of liquid to function well. This is called hydration. Water, fruits, vegetables, smoothies, some soups, decaffeinated tea and unsweetened drinks are some examples for how to keep hydrated.
Eat Healthy
When choosing foods, try reaching for whole fruits, vegetables, legumes (like peas or beans) and other low-calorie options. Consider eating whole grains instead of refined grains. For example, choose whole-grain bread, pasta and cereal instead of refined foods like pastries, white rice or sugary cereals.
Check Nutrition Labels
Learn what to look for on the label. The US Food and Drug Administration (FDA) requires food companies to provide certain information on the nutrition labels printed on food packages. Nutrition labels can be filled with useful clues. When you eat something from a box, bag or fast food restaurant, look for options with less sugar, salt and calories.
Commit to Exercise
A doctor-approved workout may strengthen your body, improve your hormone levels and the way your immune system works. Even a little exercise to keep active can make a difference.
Stop Tobacco Use
Tobacco can cause cancer. There are benefits to stopping tobacco use at any age. Talk to your doctor if you are having trouble quitting the use of tobacco.
Plan Ahead for Travel
Pack healthy snacks for long trips or doctor visits. Try packing a small cooler with hummus and vegetables or apples and peanut butter. Or keep it simple with whole-grain crackers or trail mix. When you eat out, try to choose salads or grilled items instead of fried foods. When grocery shopping on the road, look for low-fat prepared meals, salads or rotisserie chicken options.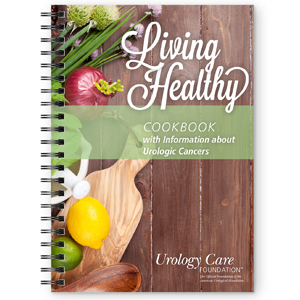 Cookbook funding and support provided by Pfizer Oncology.