SURVIVOR STORY: Frank Sloan, PhD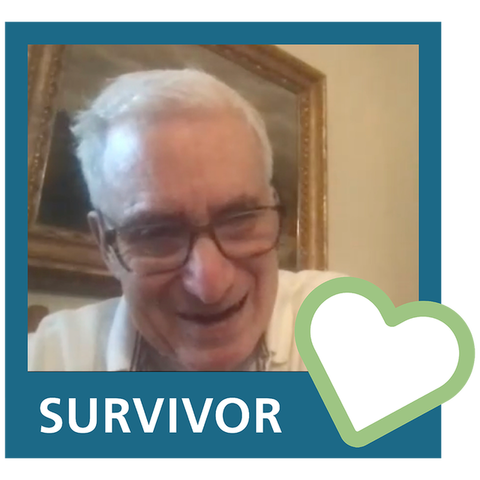 Bringing a Positive Mindset and Humor to His Cancer Journey
Just over a year after treating his prostate cancer with radiation therapy, Dr. Frank Sloan, a health economist from Duke University, saw blood in his urine. When he told his radiation oncologist, Frank was sent to see a urologist for a biopsy. Unfortunately, that biopsy found bladder cancer.
A cystoscopy and subsequent TURP showed two tumors on the surface of his bladder wall. Those early-stage tumors, however, had aggressive cancer cells. This led Frank to a urologist oncologist.
As part of his care, Frank was given BCG (Bacillus Calmette-Guerin) treatment. This is a type of immunotherapy. It's a form of non-active tuberculosis bacteria that's placed in the bladder with a catheter. It's given weekly at first, then monthly to teach your body to stop new bladder cancer cells from forming. Frank did this treatment for about a year and a half until his urologist oncologist had enough time to observe that the cancer had not come back. That was seven years ago.
Frank is happy to report that since BCG treatment and annual cystoscopies, his bladder cancer has not returned. Neither has the prostate cancer. He realizes he's fortunate, but his story is common. He knows he must stay on top of his health since bladder cancer can return.
"What's most important after treatment," Frank points out, "is to get tested annually with a cystoscopy." While testing can be costly, it's the best way to stop problems early. Once bladder cancer gets past the bladder wall, it's not easy to treat.
Frank says, "I used to ignore my health but now I try to exercise, eat better and stay on schedule with tests. I just try to be healthy. I can't control everything, but I've learned what signs to look out for. If I see blood in my urine, for example, I'll call my urologist right away. I trust him. It's important to find a doctor you can trust."
Another bit of wisdom from Frank is to find a bladder cancer support group, if one is available.
It is one of the few places people can open up comfortably, privately and find compassion. He recognizes that it's hard to talk about these subjects, but bladder cancer support groups can help with that. New friendships form and tips are shared to make life better. Often caregivers join too, as Frank's wife did. With virtual access, it's easier these days to connect.
Frank's involvement with his support group introduced him to the Bladder Cancer Action Network (BCAN). He truly values BCAN, and now he and his wife commit their time and research to support others with bladder cancer.
For more information, check out this Urology Care Podcast episode on Jon's story. His humor, positive attitude and "one step at a time" mindset are just a few things that make his story so interesting.