Healthy Eating and Cancer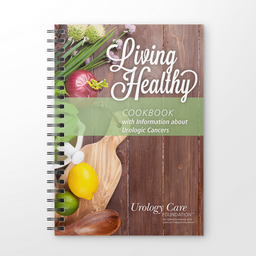 Did you know there are more than 100 different types of cancers? Or that bladder, kidney, prostate and testicular are common urologic cancers?
The good news is, eating well and cooking healthy meals can improve your overall health. Here are some healthy eating and cooking tips to get you started.
Eat whole foods like fruit, vegetables, beans, whole grains and nuts.
Reduce your intake of processed foods such as those that come in a bag or a box.
Limit sugary foods and beverages.
Get familiar with how to read nutrition labels. This will help you monitor your calorie, sodium, fat and carbohydrate intake.
Stay hydrated. Drinking water is one of the best ways to stay hydrated. Smoothies, soups and decaffeinated teas are also good options.
No-Cook Overnight Oatmeal
499 calories | 14 g fat | 177 mg sodium
108 g carbohydrates | 24 g fiber | 22 g protein
INGREDIENTS
½ cup almond milk

¹/³ cup rolled oats

1 tablespoon chia seeds

1 teaspoon vanilla

1 teaspoon ground cinnamon

½ cup fresh fruit (bananas, peaches, mango, strawberries or blueberries)

Optional: Drizzle of honey or 100% maple syrup
PREPARATION
Place all ingredients in a mason jar, cover and shake until combined. Remove lid and fold in fruit. Replace the lid.


Refrigerate overnight. Enjoy in the morning.